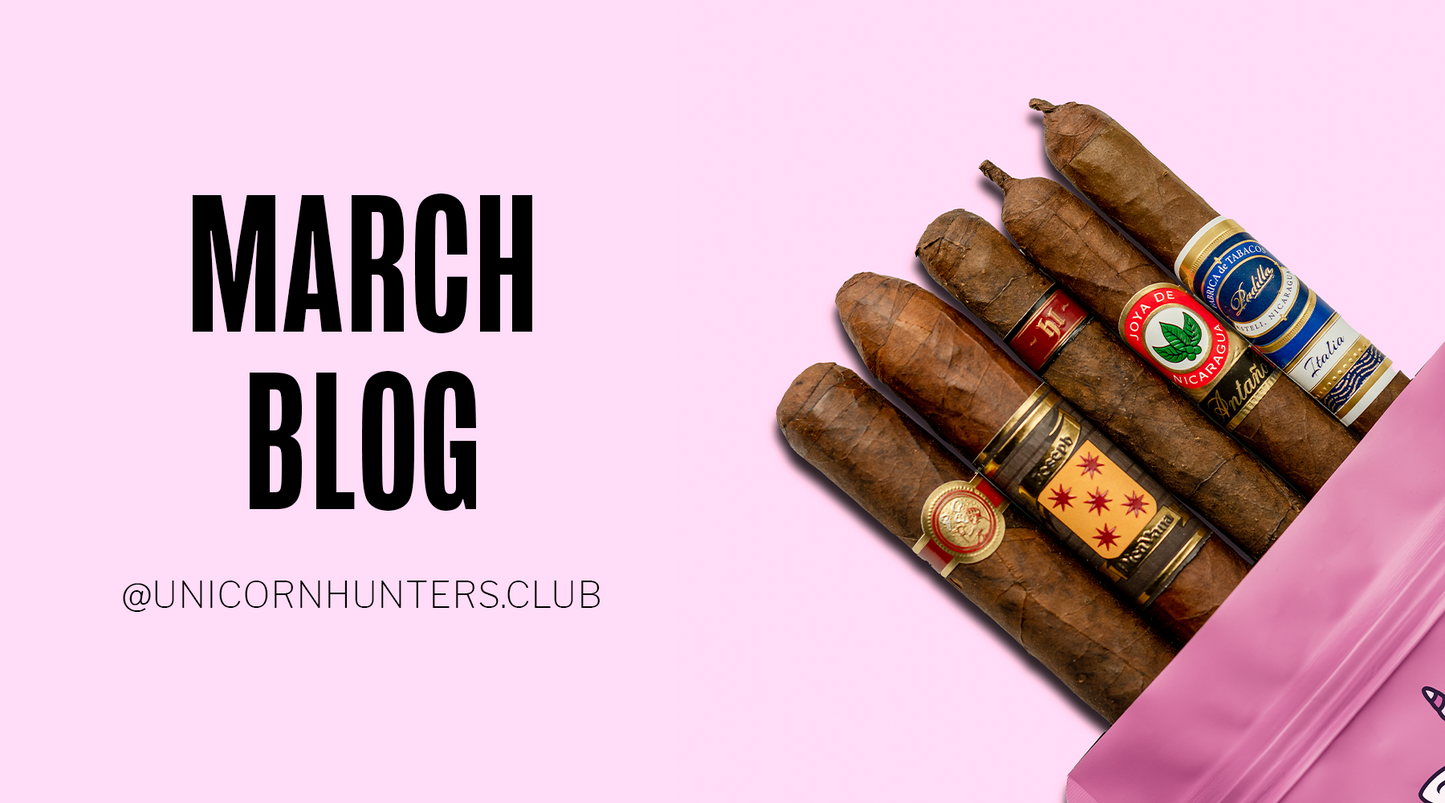 Hey there, fellow hunters! I'm excited to welcome you to March! One of the reasons I'm eager for time to fly by is that a new month means new cigars to try! This pack is sure to be a thrill, with some fresh offerings from Warped and some classic ones from Salamanca. But what really has us jumping up and down is the Lanceros we're bringing to the table! We're all about #savingthelanceros, so let's dive in and see what's in store!
Warped Venture 1492 Corona Gorda (5.5 x 48) 
Salamanca NicaBella Belicioso (6.25 x 52)
Illusione HL Maduro Lancero (7.5 x 40) 
Joya De Nicaragua 1970 Antano Lancero (7.5 x 38)
Padilla Italia Release Lancero (7.5 x 38) 
Experience the exquisite taste of the new Warped Venture 1492, expertly crafted by Kyle Gellis at Tabacalera La Isla in Santiago. This medium to full-bodied cigar features a dark and oily Mexican San Andres wrapper, Dominican and Nicaraguan filler, and a Cotui binder, with tasting notes of dark chocolate, spice, floral, leather, oak, and brown sugar. You guys are some of the first to try this exceptional cigar.
The Salamanca Cigar Group's Joseph NicaVana line offers a range of medium to full-bodied cigars, featuring hearty Nicaraguan tobaccos. The NicaBella variety is presented in a round belicoso format and wrapped in a Nicaraguan Habano Colorado leaf, delivering a satisfying smoking experience. The Habano Colorado wrapper adds to the flavor and complexity of this cigar. This batch of cigars is actually from 2014!
Looking for a rich and satisfying smoking experience? Look no further than the Illusione Original Documents HL Lancero Maduro. This Nicaraguan cigar boasts bold and complex flavors that gradually intensify as you savor it, including notes of earth, spice, and savory flavors. With a medium to full body and an intoxicating aroma, the Lancero Maduro is a true feast for the senses.
Get ready to indulge in the "Jewel of Nicaragua" with Joya de Nicaragua cigars! These dark and oily sticks are packed with flavor and have even been enjoyed in the White House. Made with a high-quality Nicaragua-grown Habano Criollo wrapper, binder, and filler, these lanceros are a must-try for any cigar enthusiast. The smoke is chewy with notes of licorice, herbs, and spice. It's perfect for kicking back after a hard day's work!
We are thrilled to have this brand-new lancero! While there isn't much information available about the Padilla Italian Release Lancero, we have a unique opportunity to learn directly from the founder of Padilla Cigars, Ernesto, through a private zoom event this month. We will have the chance to smoke and discover more about this lancero with the man himself. Stay tuned for the date announcement.
That's March for you! We hope you all enjoy it. We're really excited about this Zoom meeting, which will serve as a test to see if you enjoy it and if we can continue to do them. Thank you all for your support and feedback! Remember, sharing your pack on Instagram helps spread the word, and it's cool to see how everyone enjoys a cigar!