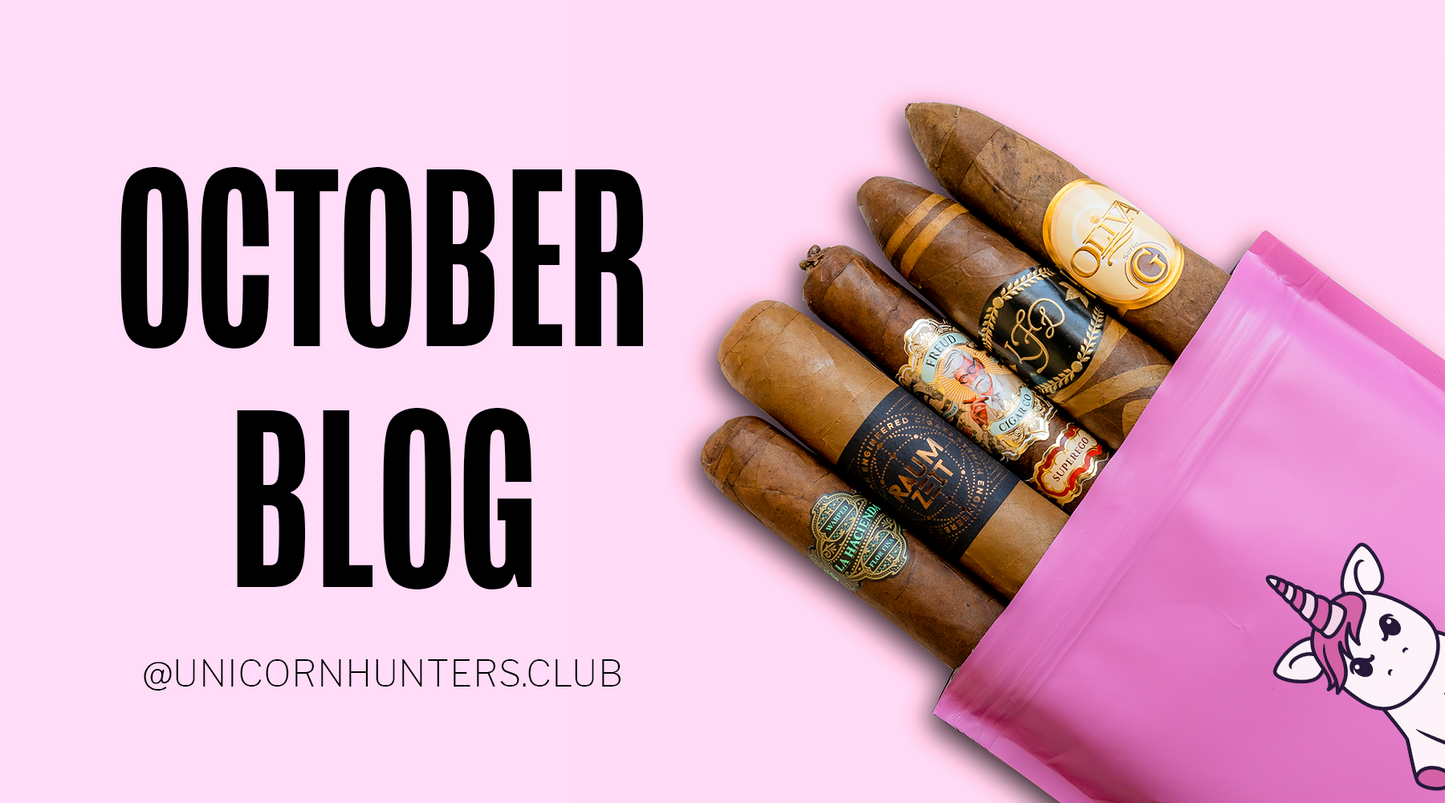 Unicorn Hunters Club : October Pack!
It's October and this one is special to us as it's our 1 year anniversary! We are extremely excited and grateful for all the support you guys have shown us from day 1. 
We want to keep adding value to not only our members but the entire cigar community! So we will be working on new features that help you understand our cigar selections so that your enjoyment of your UHC packs is at its peak. 
So... let's jump into this month's selection! 
Warped La Hacienda Superiores
German Engineered Cigars Raumzeit Robusto 
Freud Cigar Company Superego Lonsdale 
LFD Football Edition 2022 Belicoso Gordo
Oliva Series G Figurado 
The Warped La Hacienda is actually a vintage Cuban brand that was brought back to life.
This is an all Nicaraguan Puro which we absolutely love here at UHC. It has a Corojo '99 wrapper and both a Coroijo '99 and Criollo '98 binders which allows a damn near perfect balance. 
Made at the TABSA factory, La Hacienda plays host to refined nuances of dried fruit, nuttiness, and citrus. It's a medium-full cigar but it's never overpowering, this cigar bridges the gap between early 1900's cigars and the modern demands of today's smokers.  
The German Engineered Raum Zeit...
Let's see here, the word "Raumzeit" translates to "spacetime." and they claim it takes you to a new dimension. It's the first cigar from German Engineered Cigars made in Nicaragua and it is rolled at Tabacalera Tambor in Esteli. 
This is also the first collaboration between the German Engineered and Claudio Sgroi, the president and master blender of Mombacho Cigars S.A.
It has a Nicaraguan Connecticut wrapper, an Indonesian Sumatra binder, fillers from Nicaragua - Jalapa, and Piloto from the Dominican Republic.  
It's nutty and has a light spice that keeps you engaged throughout the entire smoking experience.
Freud Cigar Company is actually a baby in the cigar world, the company announced its debut in April 2022 and was started by a venture capitalist and former CEO of Montecristo Cigar company. 
The company was made to honor Dr. Sigmund Freud, an Austrian neurologist and the founder of psychoanalysis. He was an avid cigar smoker and claimed that cigars served him for half a century. 
"Freud Cigar Co. was born out of a shared passion for premium tobacco and elevated experiences — and an opportunity for some of the world's leaders in cigar production to collaborate on a new collection for the luxury market: innovative small-batch blends, rooted in the namesake of one of the most prominent cigars smokers and public intellectuals in world history, Dr. Sigmund Freud." – FreudCigars.com
The superego is constructed of Ecuadorian Corojo wrapper, Dominican Sumatra binder, and fillers from the Dominican Republic ( Criollo '98 Viso, Corojo Ligero, Piloto Seco) and Nicaraguan ( Piloto Seco). 
The result is an exquisite medium-bodied cigar, with elements of cinnamon, toffee, and cedarwood, and a dynamic profile that transforms throughout the smoking experience.
La Flor Dominicana has been releasing the football edition cigar since 2015 as a celebration to the end of the football season. The cigars are distributed in the state where the super bowl takes place in. 
The most recent release (Special Football Edition 2022) was made available to retailers in California since Super Bowl LVI was played at the brand new SoFi Stadium in Los Angeles. 
That being said, we were extremely lucky to be able to secure these through some close friends. They were released in January of 2022 so they've been aging for a little bit! 
The blend is composed of an Ecuadorian Habano wrapper with Connecticut Shade layers and Dominican fillers and binders. It's a medium-full cigar with notes of nuts, pepper, and wood which are present throughout the smoke. 
(p.s– set aside at 2 hours for this one)
Oliva Series G Figurado okay... here's a blend that's been around for a while, but we feel it often gets overlooked.  It's a core line blend and sometimes we forget about these in search of the limited editions, but it's important to remember that it was these core lines that built up the companies over the years so that later on they are able to create the limited editions. 
Okay rant over, lol 
This cigar has a Cameroon wrapper covering all Nicaraguan fillers and binder.  Wonderfully medium-bodied and in the figuardo shape, it is more engaging for the smoker. 
This shape is sometimes very tight at the beginning but only until it burns into the wider part of the foot. Don't be fooled by the tight beginning, enjoy those brief puffs, because they are almost pure wrappers and full of flavor. You'll get a rich flavorful aroma of spicy herbs mixed with the earthy bouquet of the fertile Nicaraguan soil and dried berries 
Alright, my fellow hunters, that concludes this month's selection. We truly hope you enjoy every single cigar in your pack and can't wait for your feedback and shared posts! It's always exciting to see what you loved and not loved very much! 
Stay Smokey!