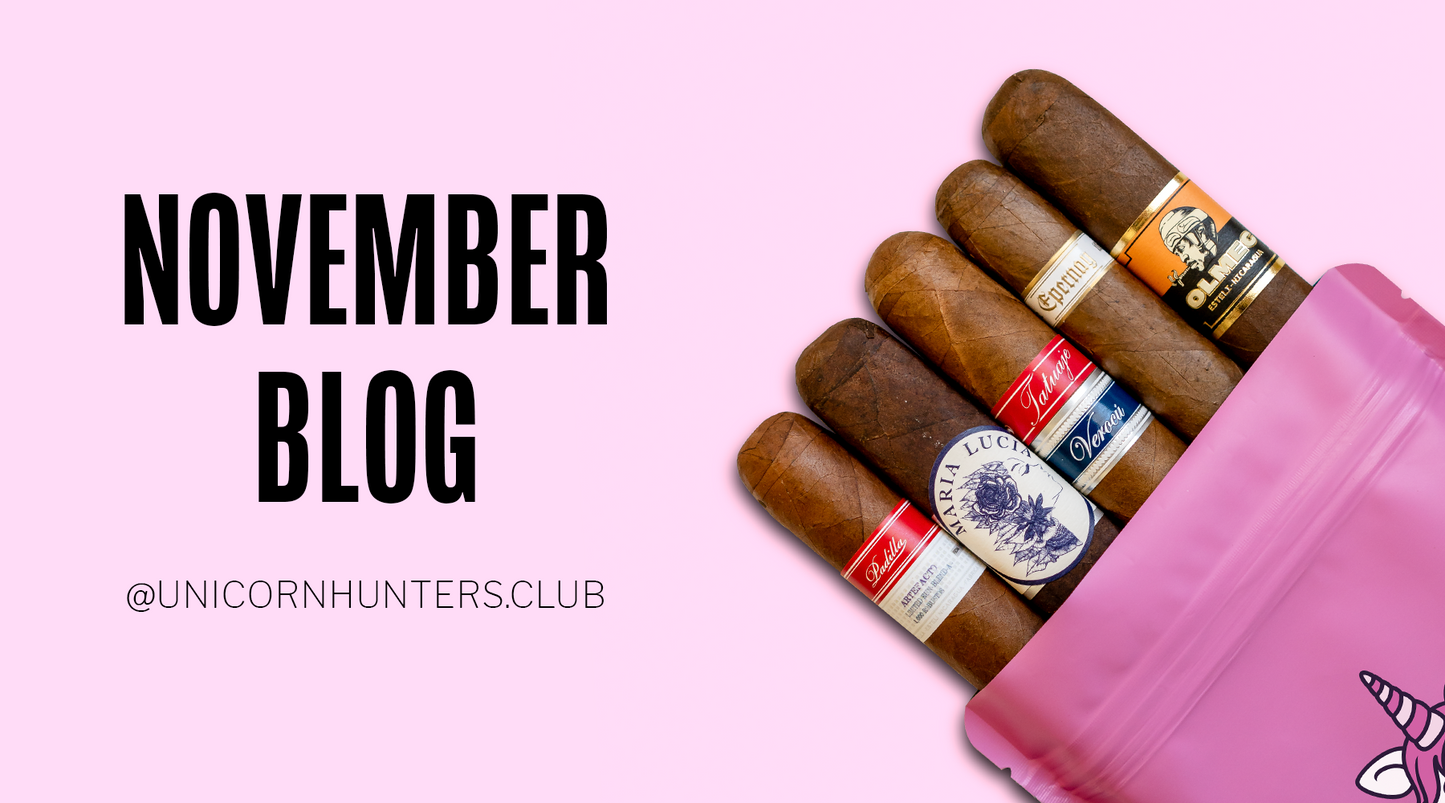 Unicorn Hunters Club : November Blog!
November is here!! Wow, time is really sneaking up on us, which is kind of scary to be honest. Good thing we have cigars to slow time down just a tiny bit!  We are excited about this month, we have some more PCA releases for you guys! 
Here's what we got! 
Padilla

 

Artefacto Robusto (5 x 50)

Luciano Maria Lucia  (5.5 x 54)

Tatuaje Verocu Blue No. 1 (5.25 x 52)
Illusione Epernay Le Matin (6.75 x 46) [Box-Pressed]
Foundation Olmec Maduro Double Corona (7 x54)
I'm sure you've seen some of these across social media recently as most are newly released, so it's exciting for us to be able to provide you with a way to try them! Let's just jump right into it.
The Padilla Artefacto Robusto is a Nicaraguan puro with an Aganorsa Corojo wrapper. This cigar is all Padilla style! Ernesto (owner of Padilla) is known for creating experiences with his cigars, and like many Padilla blends, it's full of flavor, obvious and upfront, there's no seeking out hints of anything here. Best enjoyed after lunch or dinner, extremely satisfying smoke! I personally love enjoying my Padillas with a shot of espresso or a cappuccino a truly enjoyable experience
The Maria Lucia is a limited edition cigar by Luciano, another PCA exclusive we have waiting for on pins and needles. Not only is the cigar wonderful, and probably the best release in this year's PCA, but the story behind it is even better. The "Maria Lucia" is named after Luciano Meirelles' late mother. She passed when he was 12 years old, but years later his daughter had dreamed about a woman she had never met. After recollecting details of her dream, she sketched out the woman in her dream, and Luciano could immediately see the resemblance. The box and label of this cigar are that sketch.  This Robusto Extra has a Connecticut Broadleaf wrapper over a dual binder of both Ecuadorian Habano 92 and Sumatra, with fillers from Nicaragua, Peru, and the Dominican Republic.  It is complex and meaty, with lots of cocoa.  Amazing from start to finish and you won't want it to end. Luciano only released 4,000 boxes of 12 cigars but mentioned more sizes will be coming in the near future. 
Tatuaje Verocu Blue No. 1 is another brand-new PCA release we were able to get our hands on! This cigar has a Corojo 99 Rosado shade-grown wrapper from Nicaragua. This is the same wrapper that's on the My Father Fonseca (featured in our July pack) and the coveted Tatuaje Escasos (not to confuse our Unicorn Collab, we just used the band as the meaning of escasos translated in English is scare, or rare).  The filler and binder are also Nicaraguan. This line debuted in 2007 as a stronger version of the company's Havana VI line, It's medium-bodied with restrained strength. 
The Illusione Epernay Le Matin is named after the famed Champagne town in France.  To date, this is consistently one of my favorite blends of all time.  All Nicaraguan blend, yet I feel it's mild, easily a breakfast cigar or any time of day really... I'm more of an early smoker so any blend I can enjoy in the morning while drinking some coffee I instantly fall in love with lol
The complexity and smoothness are unmatched for the mild body. Fun fact, this was also Illusione's first box-pressed cigar! 
P.S - a little birdy told us this batch has a bit of extra age on them, due to hold-ups in shipping, enjoy!
Last but not least, the Foundation Olmec Maduro. Newly released, this cigar features a Mexican San Andres Maduro wrapper from Veracruz. We all know and love the storytelling behind Nick's blends, so it's important to note that this cigar was named after the Olmecs, who were an ancient civilization in Mexico predating both the Aztecs and Mayans, known to grow tobacco in the very same valley. Today, this is the same region that grows some of the finest San Andrès Negro wrapper tobacco. This seed variety is considered one of the oldest seed varieties in the world. Olmec cigars contain the finest Nicaraguan filler tobaccos from the Esteli and Jalapa valleys. After fermentation, these filler tobaccos are bale aged for three years before arriving on the production floor.
This cigar is available in another version, which features a lighter, San Andres Claro wrapper, it is slightly milder. This blend delivers a full-bodied smoking experience with rich flavors of cacao, dark espresso, and spice without being too aggressive. This one is for the dark chocolate and coffee lovers out there! So stoked to be able to include this one in this month's pack! 
Alrighty, brothers and sisters of the leaf, that is this month's selection for ya, we truly hope you enjoy it, can't wait to see you guys share your experiences on the gram, aside of picking out the cigars, seeing you guys enjoy them is our second favorite part of this! Stay Smokey!