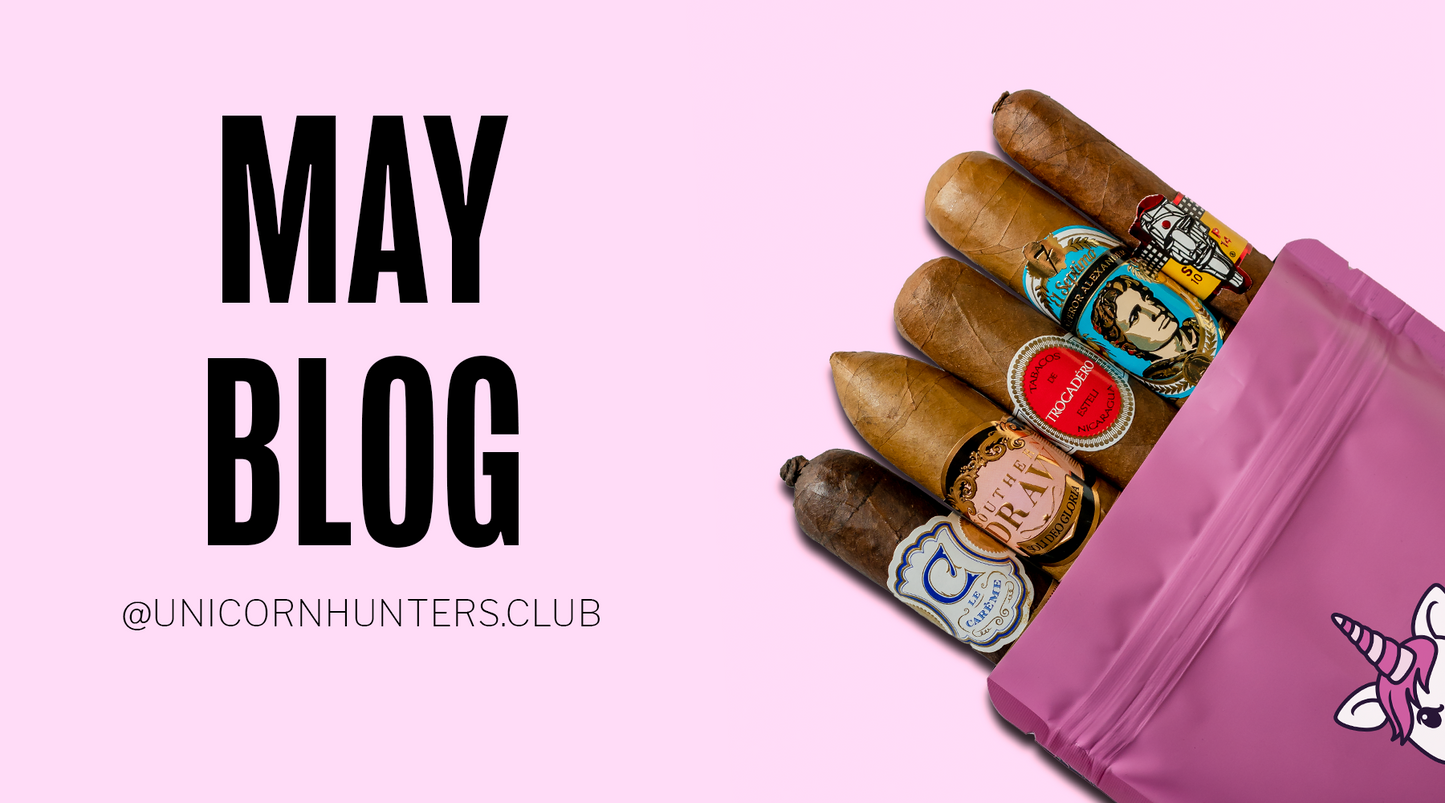 Hey there, fellow hunters! We're thrilled to present this month's selection, carefully curated to provide you with outstanding value and variety. From affordable-humidor-stocking options to a new release, and even a cigar with nearly a year of age on it, we've covered all bases. We hope you enjoy exploring and savoring these exceptional cigars, handpicked for your smoking pleasure. Happy smoking, oh and #savethelanceros! 
CrownHeads La Careme Pastelitos LE 2023 Rothschild (4 x 54)
SouthernDraw Desert Rose Perfecto (5.5 x 58)
L'Atelier Tocadero Cambon (5.25 x 52)
El Septimo Emperor Alexander lll (6 x 54)
SP1014 Love N' Passion Lancero (7.5 x 40)

Crown Heads La Careme Pastelitos LE 2023
The newly released L Careme is a premium cigar created by Crowned Heads to honor the legendary French chef Marie-Antoine Carême, who was known as the "king of cooks and cook of kings." Carême was a pioneer in French cuisine and is largely credited with popularizing the chocolate soufflé, a dessert adored by many, and a great cigar paring if I'm being honest.
The Le Careme cigar aims to capture the essence of a chocolate soufflé, according to Ernesto Perez-Carrillo Jr., the master blender behind the blend. To achieve this delicious taste profile, the cigar features a well-aged Connecticut Broadleaf Grade A Dark wrapper, which lends a rich and aromatic quality to the cigar.
As you enjoy this exceptional cigar, you'll find it exudes an incredible aroma and offers a delightful sweetness that's reminiscent of Carême's famed chocolate soufflé. Crowned Heads' Le Careme is not only an homage to a culinary genius, but also a testament to the art of blending and creating top-quality cigars. If you're craving soufflé now, this smoking experience is certainly one every cigar aficionado must experience.

Southern Draw Desert Rose Perfecto 
After the success of last year's perfecto format, we have decided to bringing it back, with some added age! Enhancing its flavors, providing you with an elevated experience, allowing you to enjoy the elegance and complexity of the Desert Rose in this perfecto format. We have had these aging since last July. Which was hard considering how many 5 packs you guys went through lol The SouthernDraw Desert Rose, crafted in Nicaragua by AJ Fernandez, is a limited edition cigar featuring a robust Ecuador Claro wrapper, Nicaraguan binder, and fillers from the Dominican Republic and Honduras. With only 50,000 Cigars made, this medium-bodied gem offers a balanced profile of spice, cedar, and cream.

L'Atelier Tocadero Cambon
Pete Johnson's expertise in crafting exceptional cigars shines through, even in the often-overlooked L'Atelier brand. The L'Atelier Trocadero Cambon cigars, blended by the Garcia family, showcase Johnson's dedication to quality and affordability. These mild to medium-bodied cigars feature a Nicaraguan filler and binder, paired with an Ecuadorian Habano wrapper, delivering a rich, complex, and balanced flavor profile. With notes of spice, earth, leather, and a touch of sweetness, the Trocadero Cambon cigars are a remarkable choice for cigar enthusiasts seeking an exceptional smoking experience without breaking the bank, they also make great morning dog walking cigars.
El Septimo Emperor Alexander lll
Bringing back another one of the El Septimos' newly introduced luxury-themed cigar featuring some of the world's most famous emperors. This time it's Emperor Alexander III of Macedon, a Connecticut Toro, dedicated to the legendary ruler who established one of the largest empires in history. Known for his military prowess and the liberation of the Gates of Nineveh. Not much of the blend has been disclosed other than they feature tobacco from four different regions of the world. The Emperor Augustus was loved by many of you and we felt this was a great follow up!
SP1014 Love N' Passion Lancero
Introducing SP1014 Red, or Love n'Passion! A highly sought-after cigar crafted by Chico Rivas in 1992. This 100% Dominican Corojo cigar, featuring tobacco from three distinct growing regions, delivers a unique and flavorful smoking experience. Produced by Tabacalera Jurarip in Tamboril, Dominican Republic, SP1014 Red has maintained affordable pricing since its debut. With a limited annual production of 300,000 cigars per vitola, it's even more exclusive than the latest Black release. Committed to preserving lanceros, we believe SP1014 Red is the perfect little treat for aficionados.