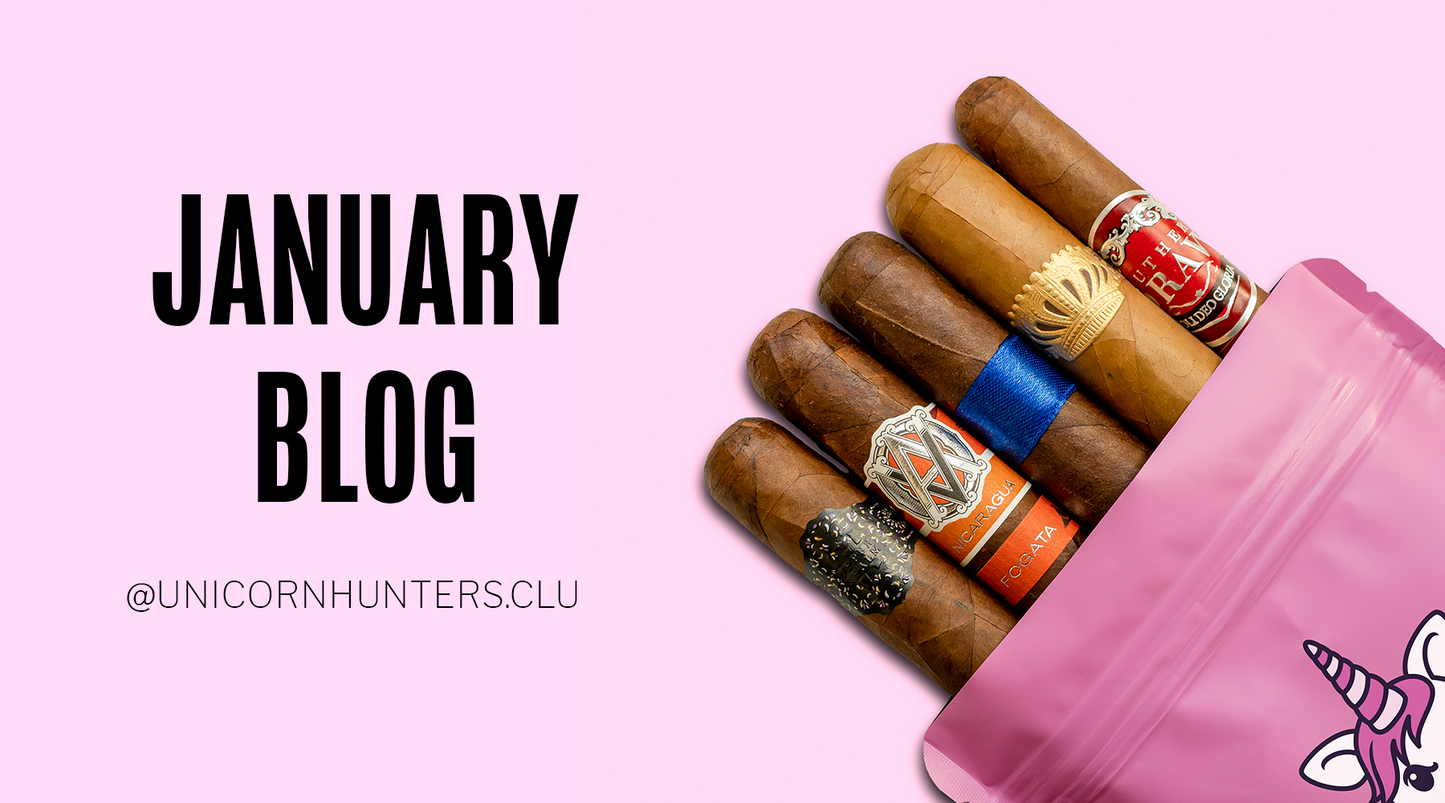 Happy New Year Hunters! One of my favorite things to do on NYE is light up a cigar and reflect on the previous year, the ups, the downs, and the times when all you can say is "WTF?!".  2023 is going to be an exciting time full of growth and we can't wait to share it all with you, so let's start with this month's selection!  
Warped Upper Realm Robusto (5 x 48)
AVO Syncro Nicaragua Fogata  Robusto (4 x 50)
Crown Heads Azul y Oro Toro (6 x 50)
Sobremesa Brulee Toro (6 x 52)
Southern Draw La Manzanita Lancero (7.5 x 40)
The Warped Upper Realm is a new cigar that recently started to ship across the nation, it was made to represent Nicaragua's growing regions. The Upper Realm is a medium cigar, which in my opinion pairs perfectly with a glass of champagne. It's made with a Corojo '99 wrapper from Jalapa, a Corojo 2012 binder from Esteli, and a filler blend consisting of 50% Criollo '98 from Esteli, 40% Corojo '99 from Jalapa, and 10% Corojo '99 from Condega. This is the first time that warped uses so much material from Estelli and Criollo, meant to celebrate the raw power of Nicaragua and the Esteli Region.
I've always loved me some AVO, this particular bland was originally made as a box-pressed cigar but in 2016 that changed. This cigar is the definition of modern-day campfire as "Fogata" translates to "campfire", and was made as an inspiration to those intimate moments we all experience when we light up a cigar. Made with an Ecuadorian Habano 2000 Claro wrapper, binder Negro San Andreas from Mexico and fillers from both Nicaragua and Dominican Republic. This is an intense yet perfectly smooth and balanced cigar, definitely something to sit back to and take in.
The Azul y Oro is a limited edition release from Crown Heads that uses an Ecuadorian Habano wrapper over a binder from Jalapa, Nicaragua, and filler tobaccos from the Dominican Republic and three different regions in Nicaragua. It is also the second Crowned Heads blend to be made at Nicaraguan American Cigars S.A. This cigar is a medium+, and it has been said that this was a product of inspiration from a token of appreciation (bottle of Johnny Blue) given to Gustavo Cura by CrownHeads Founders when looking for new manufacturing opportunities in Nicaragua.
I just love the meaning associated to Sombresa. It is "an idiom used among the Latin culture to describe the leisurely time spent tableside after you have finished dining, but before you rise. It is the experience of lingering casually with family and friends in conversation, relaxing, drinking, smoking, and enjoying each other's company. Sobremesa is one of life's simplest, yet greatest pleasures" This to me is a perfect lil snack, while very soft in strength, the flavors of cedar, caramel and café are *chef's kiss*. The brulee is a wonderful alternative to is core blend the Sobremesa liga.
The Manzanita is a medium+ blend that was first introduced in 2020, made to pay tribute to the history of Tobacco. Fast forward to 2022 Southern Draw continues to add to their profile of sophistication by announcing and releasing their prized Manzanita in a lancero and joining our cause to #savethelanceros. While we don't know exactly what varietals of tobaccos the blend is using, we do know its made in Tabacalera AJ Fernandez Cigars de Nicaragua S.A. We also know that the binder is Habano, the wrapper is a Habano Hybrid and the fillers are Pelo d'Oro, Corojo '99, and additional undisclosed tobaccos from ligero primings. Truly have been loving the releases from Southern Draw and we hope you enjoy this one!
That is it for January! Wishing everyone a Happy New Year. Every year comes with its challenges and wins, and you've been with us every step of the way. Thank you for keeping us in your corner! Whatever this year brings, we'll crush it together. Cheers! 🥂